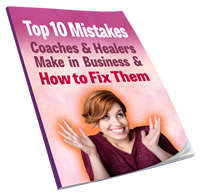 Get the TOP STRATEGIES to create a lucrative, online business that lights up your soul!
It's time! Attract more clients. Have more freedom. Make more income. Change more lives.
There's nothing like being hit over the head with a cosmic two-by-four to inspire your spiritual journey and discover your purpose in life – and in business.
My story starts back in 1998, when I was living and teaching in inner-city Los Angeles, just a few years out of college. Having collected A+'s ever since kindergarten, my insatiable appetite for praise was now being fulfilled as an author featured in the Los Angeles Times, interviewed on ABC and even praised by the White House.
It was all impressive on the outside, but deep inside I wasn't happy.
Up to that point, you might say I was the self-appointed queen of the Overachieving, People-Pleasing, Perfectionist Tribe. But after experiencing major heartbreak, betrayal and an out of control classroom (ouch!), I had a huge wakeup call. My whole world felt like it was falling apart. I was an emotional mess.
For the first time in my life, my talents, abilities and propensity for hard work couldn't solve my problems. Not only was I heartbroken and miserable, I didn't even know who I was if I couldn't claim to be uber-successful at everything I did.
Thankfully, my guardian angels were working overtime. At my lowest point, they whisked me off and delivered me to don Miguel Ruiz, shaman and international best-selling author of The Four Agreements. When don Miguel mentioned that he was leading a retreat to the pyramids of Mexico in a few months, I knew I had to go.
On that trip, I learned to trust my heart and not just rely on my super, hemi-powered brain. I started tapping into my intuition. I discovered that the roles I played in my life – daughter, professional, girlfriend etc. — do not define who I am. I became more gentle and kind with myself, less harsh and judgmental.
I also realized that it was essential to my soul to embark on a spiritual journey. And that realization changed the course of my life.
Over the next decade, I followed don Miguel around the world, spelunking my way through my emotional baggage and mental limitations. Eventually I wound up co-teaching with him, running his international retreat business and even getting locked into Machu Picchu at night with the llamas. (Really! You just can't make this up!)
During this time, I met my husband-to-be at one of don Miguel's events. On our first date, Jamie and I went to a beautiful meditation garden overlooking the Pacific, sat down to meditate, and each had a separate vision of being married on top of the Pyramid of the Sun at Teotihuacan, Mexico.
Two weeks later, we were in Mexico, on a retreat, on top of that very pyramid getting married. Crazy right?
I know it could have been a disaster, but it was one of the best decisions I've ever made.
Jamie and I moved back to the East Coast and in less than four years created a seven-figure business. And so it was that I became a multi-tasking mama, life-and-business coach and TV-show host (whew).
It was quite a ride, actually. Since we started out in debt, by necessity we had to do it all ourselves – branding, marketing, positioning, copywriting, bookkeeping, website development, systems implementation, you name it!
In the midst of our big, fancy lifestyle, I hid my shamanic abilities behind the façade of a cute suburban mom while quietly developing a small, local healing practice (shhhhh!)
As my kids got older, I knew I wasn't making as big an impact as I could. My hubby was unhappy in his biz, and I wasn't excited about it, either. My true purpose was calling. I had a message to share — if only I could figure out what it was!
I knew that I wanted to shift my business online and that I didn't want it to be just a hobby. Truth was, I wanted to be mobile, free to live and travel the world – but I wasn't making enough income to support the family. I was also fuzzy on who I wanted to work with, what problems I could solve for my clients, or how to speak in a language they understood.
Not only that, but I wasn't doing much client list-building or marketing because secretly I thought that people should be lining up at my door.
Boy, was I wrong! . . . But I was also willing to grow and change.
With my usual determination, I started applying everything I had learned in our million-dollar business to my little healing and coaching practice.
I merged my hard-core business know-how, writing talents and intuitive gifts in a mad mix, all with the intent of supporting heart-based entrepreneurs, coaches and healers in building their own money-making businesses that could make a difference in the world.
To make a long story short, it worked! Just two years later, Jamie was able to retire and be a stay-at-home dad while I supported the family financially.
Now my life is pretty amazing. Having long ago scrapped the big-city lifestyle to slow down and raise our children in the mountains, our life feels much more natural and authentic. Today, I revel in being able to work from home, peeking in on my kiddos anytime, and being able to dash off to stunning locations around the globe with my sitter, kids and hubby in tow.
Just as much, I love launching purpose-driven clients like yourself into profitable online, mobile businesses that often include transformational destination retreats.
And I believe in every fiber of my being that you should be doing what you are here to do – teach, coach and transform lives!
So after my amazing, magical and unpredictable journey,
what can I tell you that I know for sure?
Your intuition is NEVER wrong. You just need to know how to discern what it is.
Vulnerability is attractive and strong. And damn hard to get comfortable doing!
Good enough beats perfect any day.
You don't need to spend years or insane amounts of money trying to be able to quickly and easily explain what you do (without people having to scratch their heads).
You don't need to feel frustrated about how to attract clients who will pay good money.
You don't need to be overwhelmed by technology or what to tackle first.
Sharing it ALL – your human struggles, story, countless trainings, every bizarre talent and your deeply transformative teachings — is your rocket fuel to success, your special sauce.
A mobile, profitable business that works for you and your familia is so freeing — because life is NOT about working all the time.
Every time you up the number of people you serve, you need to up your self-care. Are you on that?
Life (and business) is messy. It's okay. You are not alone.
There!
So if you're looking for a way to expand your business . . .
If you know that you have a bigger message to share and that you're here on the planet for a reason . . .
If having the income and freedom to travel and live a wildly wonderful life lights up your soul . . .
If it's time for you to play bigger and feel excited and happy when you wake up each morning . . .
Then I can't wait to support you in developing a practical, step-by-step business plan that supports you heart and soul. Check out my Launch + Uplevel Your Heart-Based Business Program to get started.
So what are you waiting for? We've got places to go, people to see and a powerful impact to make on this planet of ours. Let's join forces together – and have a blast while we're at it! 🙂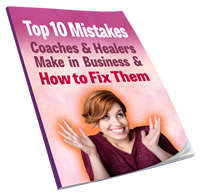 Get the TOP STRATEGIES to create a lucrative, online business that lights up your soul!
It's time! Become more mobile.
Make more income. Change more lives.