Get Started: Week 6!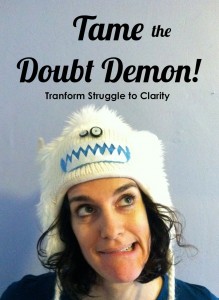 (Click links if you want to review or spend more time on Week 1 or Week 2 or Week 3 or Week 4 or Week 5.)
THIS WEEK
Watch Week 6 Video: And…Action!
Complete the Time In Audio Exercise: Action Plan
Do your Homework: Follow Through & Review
Bonus! Ensuring Your Success
DOUBLE Bonus Offers: No Cost Mini-Lightning Bolt Session & Discounts on Coaching
And a request, pretty please…
Answer the question posted on the Tame the Doubt Demon Facebook Group and leave a comment or question if you'd like.
And… Action!
Okay, so you've cleared out the Doubt Demon and have clarity on your Big Dream. Now it's time for the most important doubt-busting action you can take. Are you ready?
 Action!
Our Doubt Demon is a master at creating paralysis. When we're stuck in its caw, we feel listless, confused, and unmotivated. Yet the fastest way to bust loose of the Doubt Demon is to take action anyway. The Doubt Demon might be yammering away about how your plans won't ever succeed, but you can prove it wrong by moving forward anyway. Small step, by small step, you keep moving.
Since using the activities in this e-course, you have the benefit of having cleaned the Doubt Demon out of your system so it will be easier to take action toward your Big Dream. But even if the Doubt Demon tries to resurrect itself from the ashes, you'll know what to do. Politely listen to its nonsense, thank it for sharing, and then act anyway.
When I was launching www.ShamanGirl.com, I started researching how to create an online business. The programs I found were inspiring and motivational – but the Doubt Demon had a field day. How could I ever reach the level of the top coaches? Could I figure this out? Would it ever happen?
The Doubt Demon activated all my fears about being "good enough." When I caught myself, I realized that the most powerful course of action was to keep following the plan my business coach and I had created. So every day – whether I felt like it or not, whether I had 5 minutes or 8 hours, I would tackle one item on my to do list. I would acknowledge my accomplishment – big or small – at the end of each day, recognizing that I was moving toward my Big Dream. As I saw the clients and the compliments thanking me for transforming lives start rolling in, the doubts grew smaller and smaller, I felt better, and my business grew exponentially.
Having a written action plan is a huge bonus as you overcome your doubts and fears. On days you're feeling down or unsure, you can refer to the plan and know what to do. It's like leaving a trail of breadcrumbs to find your way home through the forest. Plus your action plan will serve you once you complete this e-course. In fact, it will lead you right into making your Big Dream a reality.
Time In: Action Plan
(To play or pause, click the far left of the bar.)
1. Go back and look at your Big Dream. Now that your Doubt Demon has been given a good scrub clean, what would you like to manifest in your life? Make any revisions or tweaks and write your answer here.
Examples:
I'm ready to add a new program for my clients that will give them deeper healing and allow my real gifts to be in service. OR…
I am patient and present with my children.
My Dream:
2. Now pick 3-5 actions to take to make your Big Dream become real. They can be a mix of fun, inspiring actions and more practical, concrete ones.
Examples:
1. Offer a practice session with a friend within the next week. 2. Create a flyer for the new program within the next 2 weeks. 3. Research new locations/partners for the program. OR…
1. Take a weekly yoga class to kept myself in a good space. 2. Take 3 deep breaths when I feel myself getting impatient with my kids. 3. Spend at least 15 minutes talking/playing with them without trying to also cook or do laundry.
Write your actions down. For extra bonus points, add a reasonable timeline to accomplish them. Use the back of the paper if necessary. Refer back to them daily or weekly or whenever the doubt gets activated. You can keep adding actions to your plan as you check off the ones above to keep you moving forward into your Big Dream.
Homework: Follow Through & Review
Now it's time to follow through. Take action. Repeat.
And review… At the end of each day or week, acknowledge what you did accomplish off your Action Plan. It's easy to feel like "nothing got done" but you might surprise yourself and give yourself a pat on the back for what did happen – even if it was one small step.
Bonus! Ensuring Your Success
I wish I could promise you that you'll never encounter the Doubt Demon again. But that promise would rob you of continued growth in your personal life and spiritual journey. As you keep expanding and dreaming bigger, as you continue to connect to your true nature and share your unique gifts with the world, the Doubt Demon will most likely make a return visit. (Yeah!) Only now you have the tools to tame it.
You'll want to return to these ideas and exercises:
Doubt is good: It means you're growing.
Clarity: What Big Dream is triggering your Doubt Demon?
Clearing: Mindfully embrace and release the fearful thoughts and emotions.
Create: Take action daily in spite of the doubt.
Periodically make time and space in your life for clarity, clearing, and creation. Keep a journal. Have a meditation chair set up. Take the time to nurture yourself and check in with what's going on inside. Hot baths, my journal and inspiring books are non-negotiables for me. Find a supportive friend or join our Shaman Girl community by clicking LIKE at the top of the page at www.facebook.com/shamangirls. Don't forget to refer back to your ebook from time to time too.
I'll offer you one more tip for taming our friend doubt.
Anytime we embark on (or even consider) a first – it's going to bring up doubt if our endeavor is meaningful to us. So if doubt is making an appearance in your life, it means that you care about making a change that's truly important to you. If you remind yourself that whatever you are tackling is important and meaningful, then you can be assured that it's worth the time and effort to tame the Doubt Demon.
Case in point: The Doubt Demon reared its head last year, when we were looking at a new pre-school for Shaman Boy. We discovered a school that we loved… but maybe we should just keep him at his current school where he was relatively happy?
As a mindful mama and a former school teacher, where we sent Shaman Boy to school was important to me – and of course it would make a big impact on him. I agonized over this decision before sending him to the new school, which he now loves and so do we. Yep – of course doubt came up. I was a (first time) mom shopping for a new pre-school (another first) and the decision was important to my family and me, especially as a former school teacher myself.
When we undertake a new endeavor for the first time and the outcome matters to us – maybe we can be a little gentler and kinder with ourselves as we tame the Doubt Demon. So cut yourself a break! As you've learned, the Doubt Demon thrives on resistance. If you approach it with gentleness, it will roll over on its belly in no time.
You now have a whole medicine bag full of tools to pull out at your disposal. So the next time your encounter a challenge in your life and the Doubt Demon appears Congratulations! as one of my spiritual teachers used to (annoyingly) say. If doubt or fear is up for you, then you are making progress on becoming a more magnificent vision of you. And this endeavor is important and meaningful to you.
This is good. Truly.
This planet needs more fully shining women (and men) who are living juicy, loving fiercely, parenting mindfully and working purposefully. When we tame our Doubt Demon and let our light shine, we not only feel on top of the world, but our families, friends, and community all benefit. Just imagine a whole world of women who are living authentically from our hearts. We'd raise a whole new generation of children with the skills to navigate their fears and manifest their dreams, we'd solve pressing problems, we'd spread love and kindness, and we'd live from a place of deep fulfillment.
So what are you waiting for? A bright, shinier vision of you is here. Your Doubt Demon has been subdued. Time to take action and manifest a life or business you love. Go on. I'm cheering for you!
P.S. There's a whole tribe of women who would like to cheer you on at www.facebook.com/shamangirls. Click "LIKE" at the top of the page while you're there so you'll receive daily tips and tools to shine fully and get first dibs on Shaman Girl e-courses, events, and retreats.
Double Bonus Offers
I want to make sure that you succeed in taming your Doubt Demon. You've invested your time and effort into this ecourse and made a lot of progress. And yet sometimes more personalized support or ongoing coaching is needed to truly integrate a Big Dream into your life. Here's how I can continue to support you:
1. Take advantage of a FREE Mini-Lightning Bolt Coaching Session – 20 minutes of a fast infusion of inspiration, a quick look at your Doubt Demon and how that's been irritating (and inspiring!) you to grow in your personal or business life, and a personalized Shaman Girl recommended solution. Email me at meghan@shamangirl.com to set up a time. Make sure you send in the answers to my questions to get us started.
2.  $50 dollars off a Lightning Bolt Coaching Session or $79 off a 6 session Fire Me Up! Coaching Package. Email me at meghan@shamangirl.com to explore if this is right for you.
And a Request, Pretty Please!
Next week after you've had a chance to finish the ecourse, I'll be sending you a survey to receive your feedback. You can also submit a testimonial if you'd like. Would you be so kind as to reply? I'd love to hear what worked (or didn't) and to be able to use your praise for future ecourses.
To thank you for completing the survey, I'll send you a complimentary morning and evening Tame the Doubt Demon mini-meditation that will support you in starting off – and ending – your day on a positive note to keep your Doubt Demon at bay and to move forward on your Big Dream.
Thank you so much for taking this ecourse. It's been my pleasure to create it for you! I hope you'll take more Shaman Girl ecourses in the future or invest in personalized coaching. Stay tuned!
Go grab your FREE Mini-Lightning Bolt Coaching Session Bonus –>
<– Go back to Week 1 or Week 2 or Week 3 or Week 4 or Week 5