Get Started: Week 2!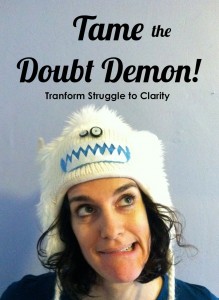 (If you want to review or spend more time on Week 1, click here.)
THIS WEEK
Watch Week 2 Video: Doubt Demystified
Complete the Time In Audio Exercise: Dream Big
Do your Homework: Breathing Life into Your Big Dream
Bonus! Overcoming Doubt: an Interview with shaman Susan Feathers
Answer the question posted on the Tame the Doubt Demon Facebook Group and leave a comment or question if you'd like.
Week 2: Doubt Demystified 
The Doubt Demon thrives on these three Myths:
Successful peeps have it all together and don't face doubt like you do.
Doubt is bad and means you're doing something wrong.
If you ignore doubt or pretend it's not there, it will go away.
If you keep judging yourself for having doubt…
If your doubt creates more doubt…
If you let your doubt paralyze you…
Then the Doubt Demon wins.
But if you're here, then there's some fight in you. You're getting tired of the doubt and preparing to shift.
We've already covered the first myth, everyone has doubt (although not everyone is brave enough to admit it!) – and I hope that my story inspired you. So let's take a more in-depth look at the second myth: doubt is bad and and means you're doing something wrong.
Ever hear yourself or someone else say, "A part of me wants this… but another part of me thinks that"?
Although we humans on a self-growth, soul-searching, spiritual path would love to be ALL compassion or ALL generosity or ALL purposeful, the truth is we humans are messy, complex contradictions.
Yet if we desire "more" or "different" or "better," then all the bitty parts of us that don't believe we're good enough or smart enough or pretty enough to manifest our dreams need to be cleared out. Those bits and pieces – our doubts – need to be loved into being part of the whole.
These are the small thoughts that say:
I can't do this.
This isn't possible.
Who do you think you are?
And these thoughts result in feeling:
Anxious
Fearful
Uncertain
Helpless
Stuck
Disappointed
Judgmental
You gots to welcome both the small thoughts and the uncomfortable feelings, which mixed together are the crunchy, scared fragments, into the light. Transformation happens when you welcome small thoughts and uncomfortable emotions into your awareness and consciousness. By acknowledging and accepting them, e-motion becomes energy in motion and passes on through you. Those small "dark" spots dim your inner light, so if you scrub them clean and love them up, they will stretch and grow into your bigger vision of you.
My bet is that you've recently invited in a bigger vision of yourself, maybe:
You want to be more loving with your children.
You want to discover your purpose and enfold that into your career.
You're ready for the man of your dreams – or you want your current relationship to be juicer, or
You want to slow down and live more mindfully.
If you've dreamt bigger, good for you! Now it's time to connect the dots about why doubt has appeared and why this is all good.
And if you are thinking, wait! I don't remember making any proclamations for a bigger dream… Often when we envision an updated version of ourselves, we aren't conscious of what we are doing. We embark on a creative project and experience that initial high… only to crash and burn. We start thinking that there's a problem with the project or maybe it wasn't meant to be instead of seeing the role doubt is playing. Or we start exploring a new career/opportunity/doorway and we become fired up about the possibility… then we feel like we can't make a good decision about which direction to go. Again, our little doubt devil is making a beneficial appearance.
Whether you consciously invited in a shinier version of yourself, or it happened unconsciously, it's all good. In fact, the clearer you are about what you want to manifest and how the doubt demon is connected, the easier it is to move through the doubt. That will enable you to reframe why doubt is good. Let's take at look at your Big Dream.
Time In: Dream Big
(To play or pause, click to the far left of the player)
What's your Big Dream? Doubt has made its appearance in your life. So what have you been inviting in – consciously or not?
Close your eyes. Take a few deep breaths. Then picture, hear, smell, taste the grander, shiner version of you. Maybe you want to be a more mindful mama or have a bigger business or let go of old stuck emotions + stories. Maybe a life transition – a change of job, or your children becoming more independent, or a change in location has shaken your image of yourself. What's up for you?
When you are ready, open your eyes and write your Big Dream down in your ebook or journal. Acknowledge what's going on in your life right now and what dream you are working on manifesting.
Homework
Breathing Life into Your Big Dream
Throughout the week, carve out a few minutes a day to acknowledge all that you are juggling in your life. You can do this in the morning, at a stoplight, or before you go to bed. Breathe in a sense of respect and compassion. Breathe out any frustration or anxiety at not having creating your Big Dream – yet.
If you want to really go for it… picture yourself living your Big Dream. See if you can visualize it from a place of "done deal," instead of a yearning, reaching, struggling to get "there." Breathe into the excitement and contentment of living your Big Dream. Breathe out any "trying" or "wishing."
Bonus!
Overcoming Doubt: an Interview with shaman Susan Feathers
You've been wrestling with your Doubt Demon and it's friend fear – doubting that you are good enough, smart enough, or determined enough to achieve your dreams. So how can you cast aside doubt? Susan Feathers of Fearless Flame Healing Arts has a background in psychology, meditation, and the shamanic arts. She's has some expert advice on how to deal with doubt – and why it feels different than intuition.
<– Go back to Week 1
Go on to Week 3 –>