In 3 focused hours of 1-on-1 personalized coaching, we'll nourish your gifts + goals, shift clogged energy, + create an action plan to shine fully. It's a mini-retreat!
Clarity + practical steps = inevitable transformation.
Craving direction in your personal life or business?
Stressed + overwhelmed from taking care of it all?
Tired of feeling stuck + playing small?
Worried you're not the mindful mama you want to be?
Has the spark faded from your romantic relationship?
Having a "life change" and finally ready to rocket-launch your spirituality, business + dreams?
I so wish there was a magic wand to make life comfortable and sweet! But life – especially for us smart, talented, multi-tasking mamas in heart-based businesses – is messy + full. We all hit bumps in the road or feel like we've stalled out – permanently.
That's why it's time to step out of confusion and into being secure in your true self, relationships, parenting, business + finances with a Lightning Bolt Coaching Session. Then you can handle whatever comes your way since you're connected to your intuition, stocked up on power*filled tools and know your purpose + priorities to keep your head on straight and your heart happy.
Your session isn't just motivational. We will be spelunking into your true nature and mucking about in some deep inner work that will open up space for exponential growth + transformation.
You'll dance out the door after our session feeling confident, clear, and energized to start radiating vibrantly – in all areas of your life.
Oh! the luxury of 3 hours of focused, juicy, space-to-breathe time together. We'll meet on the phone, Skype or in person + the session will be recorded.
Snacktime! There will be a 20 minute break mid-session to refuel, absorb, + re-focus.
Laughter? Yes. Tears? Likely. But when we're done, you'll feel lighter and ready to take your life to the next level.

Before we meet, you'll answer a few jazzy, get the creative juices flowing questions on your goals.
You'll invest $325 for 3 hours of pure brilliance.
To reap the full benefits of our time together, I highly recommend blocking off a few hours after our session to marinate in your ah-ha's and insights.
Curious about cancelling? Here's the details for this rarity.
If we've booked your appointment and you are ready to pay:

I keep cheering you on after your session!
An mp3 recording + recap of your action plan will appear in your inbox.
You're also welcome to email me whoops-what-about-this? questions for a week after our time together.
One month after your session, we'll grab a 15-minute check-up phone call to celebrate your changes + make tweaks if needed.
And don't be surprised if I pop up in one of your nighttime dreams! It's been known to happen.
You'll be good to go! And I'm always here if you want to book another session in a few months or next year. Or maybe you'll be tempted to jet away on a Glow Girl Retreat to renew + recharge with soul sisters?
My intent is to inspire + uplift you in whatever way you need.

Download your application here. Then email to me. All information is top-secretly confidential between me and you.
Let's make an appointment to chat about your goals + desires. (And if you're a dip your toe in the water first kind of gal, I offer a limited number of free 20-minute Mini-Lightning Bolt Sessions once a month.)
Oooo! Can't wait to start rubbing off what's been lackluster and bringing out unique, magnificent, fully shining YOU!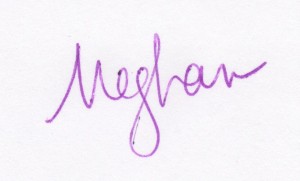 "I had a Lightning Bolt Coaching Session with Meghan recently and I am amazed by the results. I had been frustrated and struggling to create a new way of working with my clients over the last few years and to let go of the outdated model. Every time I would take a risk, I found myself falling back into old ways of being. In our 3-hour session (which at first I thought might be too long but then realized it was not only what was necessary but was a luxurious gift of giving myself this sacred time), I was able to finally and completely say good-bye for good to this old way of being.
I feel really free, excited, and ready to offer my clients deeper healing." 
– Dr. Devorah Feinbloom, Holistic Chiropractor + Transformational Kinesiologist, Marblehead Natural Healing
"Meghan is a rare and gifted healer.  Her healing room feels like sacred space…warm, cozy and safe.  She lead me on a healing journey that felt Spirit-guided and held the duality of feeling both gentle and powerful at the same time.  Even though part of the journey brought up painful past experiences, it never felt difficult – always gently guided and strongly supported.
Her work is transformative, highly effective and empowering.  I feel blessed to have done this work with her."
– Gayle Gorfinkle, Intuitive Healer, Sunshine Intuitive + Holistic Healing